Burberry No. 1 Sloane Street
Introducing our new flagship at No. 1 Sloane Street – debuting a new global design concept, in collaboration with architect Vincenzo De Cotiis. A space of contrasts, encapsulating the essence of Burberry.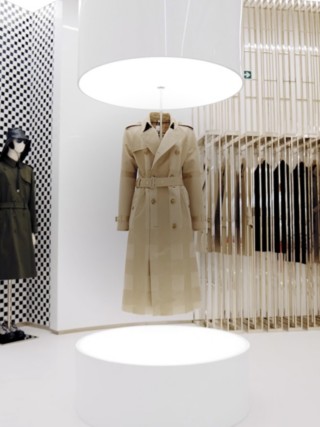 Past, Present and Future
Located in the heart of London, the new store celebrates the iconic SW1 post code – a destination that is intertwined with our heritage. Thomas Burberry opened his first ever store in SW1 and, 130 years on, it remains the home of our brand – with our global headquarters located here.
Bold Romanticism
Contrasting elements strike a harmonious balance between brutalism and luxury, strength and softness, as fixtures and plinths in a variety of textures – from concrete and ceramics to high-gloss finishes – create a distinctly modern feel throughout. A Burberry palette of beige, black, white and red is explored and evolved, while the iconic check is reimagined as mirrored lighting grids across the ceiling.